9 Things Your Cleaning Company Won't Tell You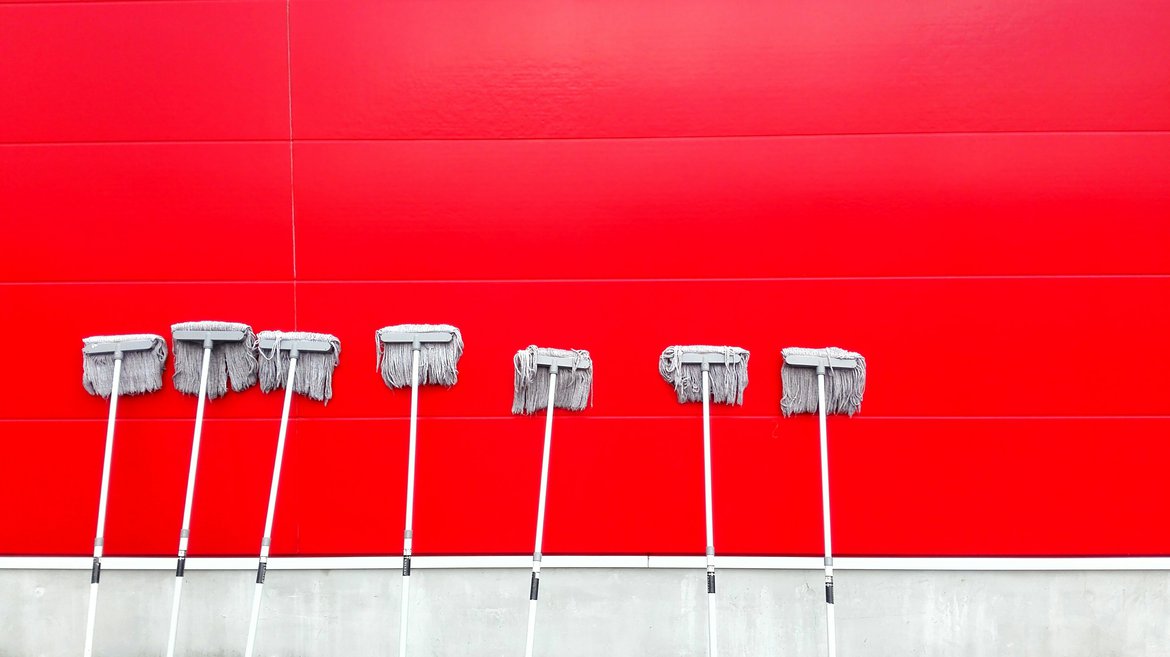 Choosing a cleaning company can be a tough process, and no two cleaning companies are the same. We each provide different services, customer service guarantees, pricing scales, schedules, and more. It can be hard to find a company that suits your needs, and may people try a few different ones to find the right fit. 
When you search for a new cleaning service, they will each tell you they're the best (including us). That's great, but you should also pay close attention to the things they won't tell you. Here are a few things cleaning companies commonly avoid discussing, and how CleaningPros is different!
1. You might have to provide your own equipment and cleaning supplies.
One advantage of using a cleaning company should be that you don't buy/store cleaning supplies or bulky equipment like vacuums, buckets, mops, brooms, etc. However, some companies will ask you to provide some or all of your own supplies. If you want them to use specific products, you provide them at your own cost. If you have to pay for the equipment and supplies, why pay for the person to use them?
CleaningPros sends each Pro Cleaner to your home with over $1,000 of our own cleaning supplies and equipment. You don't need to worry about providing anything (unless you want to). We bring everything, and you can use that extra cabinet and closet space for whatever you want!
2. You don't control which cleaning products cleaners use.
We are more conscious of the toxic chemicals we bring into our home - and cleaning products are some of the most dangerous. When you hire a cleaning company, make sure they are up front about which products they use. Some companies use only a specific brand, some only use the cheapest products, and others will let the cleaners choose which products they use. This means your cleaner could be using chemicals that are toxic to pets, children, or people with allergies. 
We want to make sure your home is both clean and safe when we leave, so CleaningPros is committed to using only eco-friendly products in your home. Because we provide our Pro Cleaners with all their supplies, we guarantee the products they use are the safest and most effective out there. If we don't feel comfortable using a product around our own children and pets, we won't use it around yours!
3. Not all cleaning sessions will be 100% perfect.
People make mistakes. This is something cleaning companies aren't happy to admit, but it's true. No cleaning company can prevent all mistakes, so it's important to look at how the company chooses to deal with them. Will they make you pay for the cleaner to come back? Do you have a short or long window of time to complain? Will they offer you a refund if you're not happy? 
We at CleaningPros have no problem saying that yes, we make mistakes. We're human. However, we don't believe you should be punished for our mistake - so we adhere to what we call our 200% Guarantee:
The First 100%: If you find a problem within 48 hours, let us know and we'll send a Pro Cleaner to your home to fix it for free. It's our mistake, and we'll work hard to make it right.
The Second 100%: Within 24 hours of your second clean, if you're still not satisfied, let us know and we'll refund you the full price of your cleaning session. 
Until we can hire robots to clean our homes to absolute perfection, we have to live with a little human error from time to time. With CleaningPros, we make sure to work with you to make things right. 
4. Signing a contract means we control the schedule - not you.
Some cleaning companies require you to sign a long-term contract to use their services. For those who live a pretty consistent life, and who have the budget to pay for services weeks or months in advance, this is probably not an issue. However, this isn't realistic for most people. Signing a contract means you are stuck with the services and schedule you originally signed up for. Changing or canceling cleaning sessions can lead to crazy fees and penalties. Paying for cleaning sessions up front can cost thousands. 
We at CleaningPros understand that life can be unpredictable and budgets change. That's why we don't use contracts - you can book, reschedule, and cancel appointments as needed up to 3 days in advance. You can also sign up for regular cleaning sessions, or just book on demand as you need us! We're happy to work with you to find a schedule that keeps your home clean and your budget under control.
5. There might be hidden fees - and they add up fast!
Another disadvantage to signing contracts is that they're often riddled with hidden fees. The most common hidden fees occur when you try to cancel or reschedule an appointment. In addition, you can also be charged extra to use eco-friendly products, if your home is too cluttered, if the cleaning session takes too long, or if you have pets. These fees can add up fast, and often without warning!
At CleaningPros, we hate hidden fees as much as you do! We will work with you to set up a plan that includes all fees (except taxes), so you know exactly what you're going to pay ahead of time. We will never charge you more than that, unless you give us the OK. In fact, if your cleaning session takes less time than we planned, we'll credit your account for the difference! The only surprise you should get from us is a suprisingly clean home!
6. We prefer to do things "our way."
Some cleaning companies can be pretty strict with their customers. They may have a pre-determined list of what they're willing to clean in your home with no wiggle-room. If you request services outside of their usual list, they may refuse to do them or even charge you extra for them. 
CleaningPros understands that every home is different. Whether you just need a little help with the occasional "deep clean," or you need us to come in and handle it all - we'll work with you to create a custom cleaning list. Our cleaning services generally work in one of two ways:
Quoted Clean: You tell us what results you want, or you can use on of our default offerings. We will provide you with a guaranteeed quote to get everything done.  In fact, if it ends up taking less time to finish, we will credit you the difference! 
Checklist Clean: This is a great option if you're on a budget! Make a list of what you want done, and we'll work down your list with the budgeted time you purchased! You can change the list or time frame as needed.
Of course, we also have limits to what our Pro Cleaners can handle - their safety is incredibly important to us. We will work hard to make sure your home is sparkling clean, and our Pro Cleaners are also safe and happy!
7. Our cleaners may not be our employees - they may be outsourced.
While most cleaning companies hire employees to work solely for their company, some outsource their cleaning professionals. This can be dangerous. Companies who outsource rarely do criminal or background checks, and they may not be liable if the cleaner causes damage or commits theft. 
We know how important your safety is to us, which is why we never outsource our work. Every Pro Cleaner is employed by us, and we work hard to make sure our employees are the happiest around! Each Pro Cleaner is fully vetted and subject to a national criminal record check via BackCheck. We also pay our employees higher than the industry average, provide health & dental benefits, allow unlimited time off, and provide a positive environment. Our goal is to have a happy staff that loves working for us. Happy employees lead to happy customers!
8. We may not be responsible for damage or theft.
Depending on the cleaning company's liability insurance and policies, they may not be fully liable for any damage or theft caused by their cleaners. If a company outsources their cleaning services, this becomes an even bigger problem. Even if it costs a little more, you should always hire a company that will take full responsibility for damage or theft - no exceptions!
You shouldn't have to rely on your homeowner's or renter's insurance to cover our mistakes. CleaningPros is fully bonded and insured - in fact, we carry double the insurance necessary for our industry, just in case. If it's our mistake, it's on us to make it right.
9. No two cleaning companies are the same.
When comparing different cleaning companies, they may try to tell you that everyone is the same - the only difference is price. This is an easy marketing tactic to get you to choose them. If everyone is offering the same exact cleaning services, of course you'll choose the cheaper option, right?
We are the first to admit not all cleaning companies are the same. While CleaningPros strives to be budget-friendly, we know that we're not always the cheapest option out there. Instead of looking solely at cost, you should also look at what you get for the money:
What cleaning services do they offer? Is it a basics-only clean, or will they give you a custom cleaning?
Will they work around your life, or do you have to work around their schedule?
What guarantees do they offer if your expectations aren't met? Will they make things right?
Who are they hiring, and how do they know their employees are professional and safe?
What other benefits do you get for the price?
We strive to give you a beautifully clean home and peace of mind that your home is in good hands - and we think you shouldn't have to blow your budget to get either!
Book Your Clean In Today
Let Us Help You Change Your Life :)
---
Nov. 11, 2017
Category: maid-services